Reference Dogs
On this page we have past sires, along with many pups we have raised and sold as started dogs, or trained for customers that brought back their pups. We enjoy seeing these excellent dogs working hard, and showing off their great breeding.

Jed (FredXJen) ABCA#312372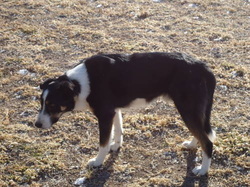 Jed was a great stud dog owned by Luke Jackson. He was out of Boles Fred and Steve Sturtz's Jen. Jed had a great temperament, was very hard working, and very obedient. He came from great lines and we loved the pups out of him and Sis.

Jed died in an accident in 2013, but our stud dog Rex is out of Jed and Sis.

---
Blue (RexXBelle)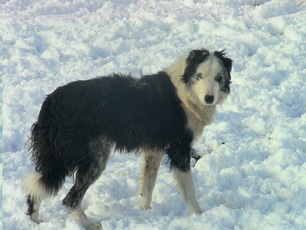 Blue is a young male that we got from a litter that Rex sired with Belle, a red Merle. Blue is a medium to long coat blue Merle with a lot of personality and drive. He loves to work, and is a stout, muscular dog. He works well with other dogs and is coming along really well. There is a clip of him on the main page working with Rex, his sire.
Blue was sold to a ranch in Central UT as a started dog 4/2016.
---
Dot (RexXBee)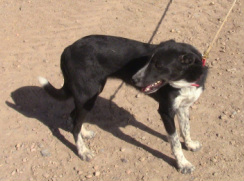 Dot is a young female we kept out of Rex and Bee's 2014 litter. So far she has shown a lot of interest in stock, and is very smart. Their is a clip of her working with her sire, Rex, on the main page. We sold Dot to a ranch in central UT as a started dog in April 2016.
---
Roxie (SisXJackson's Spud)
We kept this female and her sister Sioux out of a great litter. Sold at 7 months.

Jep (SisXJed) SOLD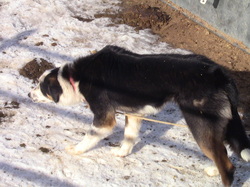 Jep was a big, aggressive young dog that was sold to a ranch in Utah. Below is a clip of him at 12 months. He had a lot of grit, and no back down.

---
Bo (SisXJed) SOLD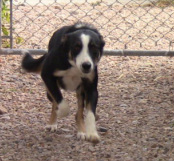 Bo is a great dog we kept from SisXJed and trained. He inherited a lot of great cow dog tendencies from his parents and was quick to train. His litter mates have had great reviews from ranchers and families that bought them as pets. He was sold as a started dog to a ranch in Utah.

Below is a clip of Bo working on some young bucking bulls with his sire Jed.

---
Sock (SamXTiny)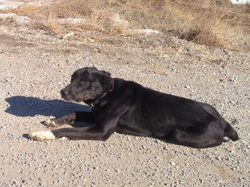 Sock is an excellent Registered Hanging Tree stud raised and trained by Dale Jackson. He works very well alongside our border collies. For more information and breeding information for Sock, contact Dale Jackson at 435-623-1531.

---