---
---
Welcome to our website. Fall is in the air. We will be busy gathering our cows off of the mountains for the next couple of months. All our pups are sold. Check back for when we will be breeding our females in the next few months.
Contact us with any questions, and thanks for visiting.
--Jade and Autumn Jackson

Our Working and Breeding Dogs

We breed our dogs to work cattle. Our border collies have natural herding instincts and bite, and are tough, hard workers. We have found that many local dogs just don't have enough bite and toughness to work pairs. Ours do. As tough as they are, they also have great temperaments. Our dogs are great around people, and with our kids running around, we need them to be. They like to work, they want to please, and are incredibly intelligent. They are easily trained and handle better than any other dogs we have come in contact with. We have invested in some of the best bred dogs available, and are breeding for high quality not quantity. We choose our studs and pairings with great care and our pups are proof of this. Our dogs come from long lines of excellent working ABCA Registered Border Collies, and we are excited to bring these lines to Utah and surrounding areas.

-Sis - SissyXBocephus ABCA #344377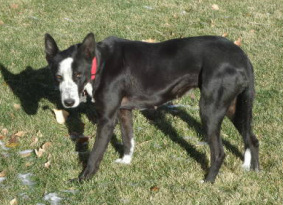 Sis was our first dog purchase, back in 2009, and is the foundation of our breeding program. She is a big, slick haired female. She is tough and goes to the head and has a great low heel bite. She is a hard worker, incredibly obedient, and has whelped a lot of great litters, with stellar reviews on her pups. We have trained several of her sons, videos are available on the Reference Dogs page. We have kept several females out of Sis to further our breeding program. We bred sis to Richard Daybell's Walker, a 2017 cross that produced some truly amazing dogs, including two that we kept to train, Brute and Kit. Sis had her 2nd batch of this cross on May 1st. Pictures coming soon on the puppies page.

Sis is out of Steve Sturtz's "Sissy" of San Angelo, Texas and Beasely's Bocephus of
Westbrook, Texas. Bocephus won the Sundowner Stockdog Futurity in 2008 and also the Pro-Novice Dog of the Year in 2009.
Sis's paternal grandfather, Tony, is a legendary dog in the border collie breeding world. A clip of him working a buffalo is available on Sturz' website.
"I purchased Sissy after the Wyoming trial series in 2008, where she was considered one of the toughest females at her age that most have ever seen. She is a big, tough, slick haired, Border Collie that was easy to train and placed at many trials, including winning the Kansas Futurity." -Steve Sturtz- (sturtzstockdogs.com)
Below are videos of #1 bringing the cows off the bench with Jed, and #2 Sis working with a pup from one of their litters, Bo.

---
---
-Bee-TipXBitzy ABCA#380078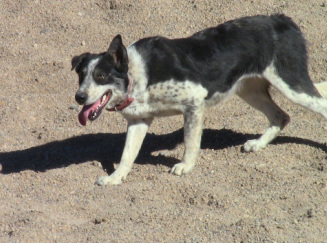 In looking for another breeding female to add to our program, we came across some incredibly aggressive dogs raised by Chris Knight of Kentucky. Bee is out of Tip and Bitzy of Knight's Border Collies. We bought Bee in 2012, and were incredibly impressed with her response to goats at only 8 weeks. As a finished dog she is amazing to watch work. She is very tough, strong, and obedient. Below are progressive videos of Bee, the last taken shortly before she had her first batch of puppies. Bee has had several batches of puppies and we have had some amazing reviews from their owners, as well as some great performing dogs that we kept for ourselves. She raises big, healthy pups, and we look forward to her batch for 2018.
We bred Bee to Coal- a son of Sis seen below. She is due the first week of May. Pups will be on the page shortly.

---
-Sioux- SisXJackson's Spud ABCA#430437
| | |
| --- | --- |
| | Sioux is a big, athletic blue Merle. We bred Sis to a son of Jed, sold to a Utah rancher. Jackson's Spud is a large, red Merle, and Sioux is a great cross of these two dogs. Sioux is large and athletic. She has amazing conformation and has turned into an impressive finished dog. She has a very hard head and heel bite. Sioux whelped her first batch of pups out of Rex in 2017 and we look forward to many more great pups out of this female. |
---
-Coal- SisXIke ABCA #441085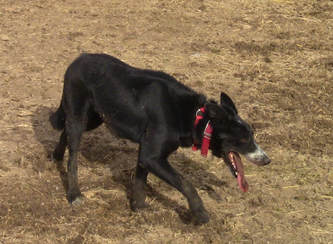 Coal is a great young dog out of Sis and Ike, a King/Cap bred male. Coal has a lot of grit and bite. He is very quick and strong. We look forward to him as a finished dog, and as our new standing stud.

---
---
-Cinch- BeeXSam ABCA #426065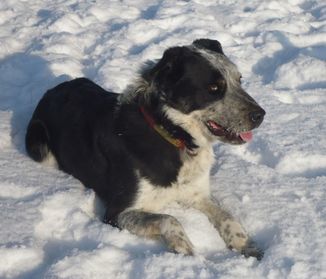 Cinch is a solid built male out of Bee and Sam, a son of Rex. He has a lot of grit and is a very tough and athletic dog. He bites hard, and can take a hit. He is owned by our daughter Emma, and is a great addition to our program. We plan on breeding Cinch in the future.

---
---
-Rusty- DukeXBee ABC #447337

Rusty is a great young Tri- Colored Male that we kept out of the 2016 batch of Duke and Bee. Duke was a son of Sis, and truly a tough and aggressive cow dog with a sweet temperament around our kids. He is found on the reference dogs page. Rusty has shown great learning and working ability. He is excited to work, and is very obedient. He is owned by our son Gavin. Pictures coming soon.

---
-Brute- SisXDaybellsWalker ABC #452825

Brute is one of our most exciting prospects. He is out of the May 2017 Sis and Walker batch. He is a big, strong, and showy dog that has shown a lot of aggressiveness and style in his herding. He is big, tough, loves to work so far, and we are excited to see how he starts on calves this year. Pictures coming soon.

---
-Kit- SisXDaybellsWalker ABC #452826
Kit is a tall and leggy tri-colored female out of the 2017 Sis and Daybells Walker batch. She is big and athletic and very aggressive so far. We are excited to start her training on calves this summer, and look foward to see her develop her natural herding skills. Pictures coming soon.